UK Metal Gate Designs Explained
Metal Gates For Any Home & Garden Design
As one of the UK's leading retailers of high-quality metal gates, we understand that selecting a new gate for your property is not a regular occurrence. With thousands of design possibilities to choose from as well as a confusing number of size options, the process of selecting and ordering your new gate can seem confusing (especially if you need more confidence with DIY, to begin with). We have therefore compiled a comprehensive list below detailing the most common UK gate designs and what their main purposes are within a residential environment.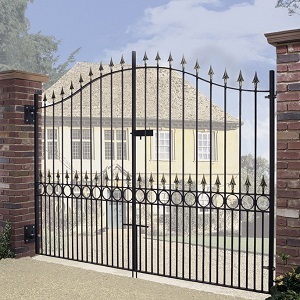 ---
Although the name suggests they should be used within the garden, a metal gate of this nature is, in fact, suitable for any pedestrian access point around your property. Manufactured as a single leaf (rather than a pair) garden gates come in all shapes and sizes and are mainly designed to act as a visual deterrent to trespassers and criminals, although they are also commonly used to keep pets and small children from straying away from the safe confines of the garden.
How do they operate?
Featuring a pair of hinges that can be mounted to brickwork, stonework, timber posts, metal posts or any other suitable surface, a garden gate is designed to swing open to provide easy access whilst the latch fitting on the opposite side is designed to hold the gate securely in the closed position.
What are the benefits?
Metal garden gates are superb value for money as they provide several benefits to the homeowner, including aesthetic appeal, security, privacy and restricted access.
What are the negatives?
Due to the majority of designs being 3ft in height, the level of security that is achievable is low. This is because they can be bypassed by climbing over. As mentioned above, they are more of a visual deterrent.
In addition to this, where large pedestrian entrances need securing, you may find that a single garden gate will have too large a swinging radius to provide ease of operation. This will be especially prevalent if space around the gate is limited or if obstructions nearby may hinder the operation. In these instances, we recommend you select a small pair of double gates instead.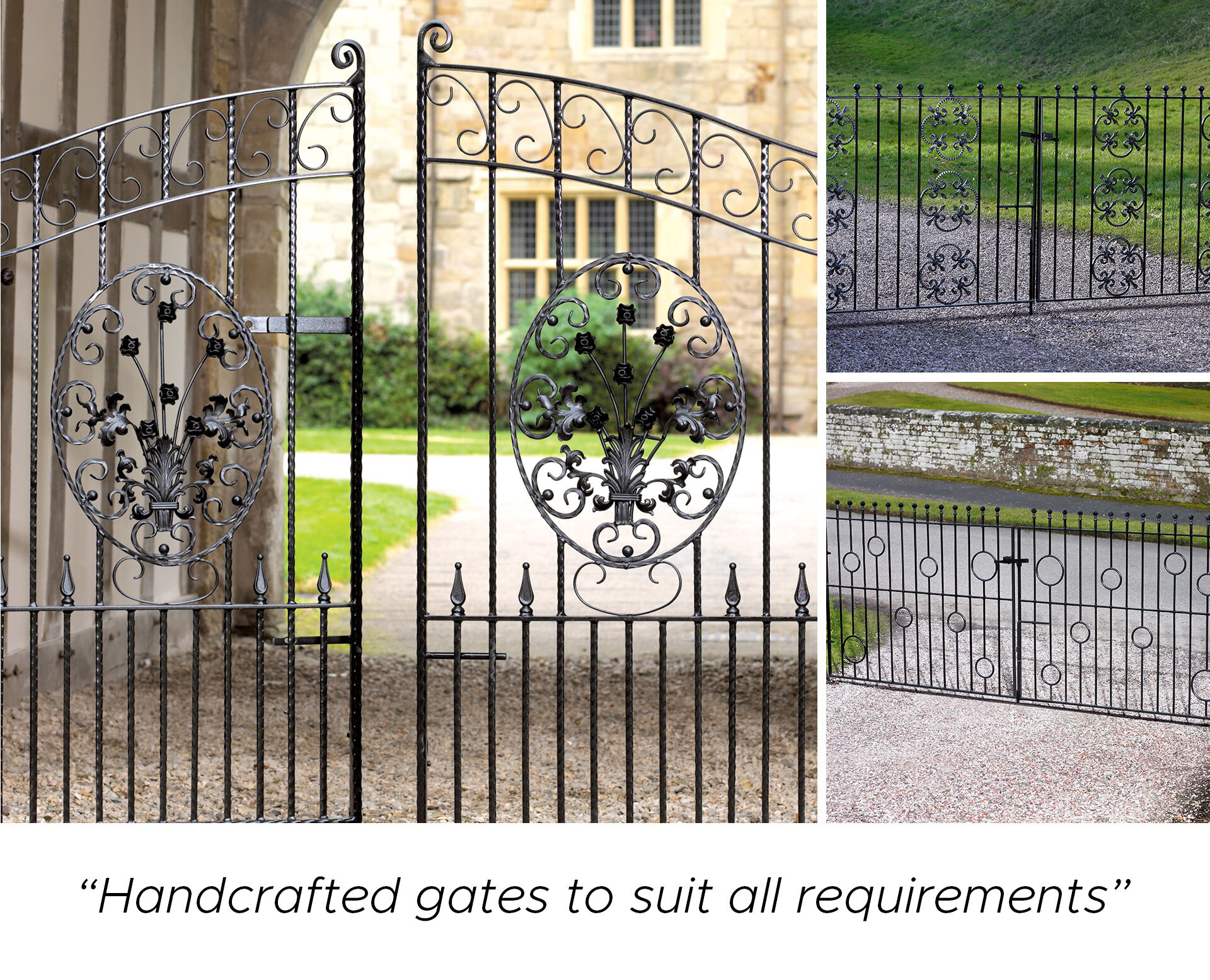 ---
If you have a need to provide a higher level of security to any pedestrian entrance within the bounds of your home and garden, a metal side gate is an ideal choice. Featuring a steel construction to ensure rigidity and reduced flexibility, this type of gate is an excellent choice for securing rear access points, side entrances, passageways or any other area where you need to keep pets and children in and criminals and trespassers out.
How do they operate?
Manufactured to high standards to provide strength and rigidity, metal side gates can be installed in a number of configurations depending on your site requirements. Featuring a pair of hinges mounted to one side of the gate (which should be attached to a suitable structure such as an existing brick wall or post), they swing open and closed by hand. Fitted to the other side of the gate is normally a tipping latch or sliding latch (both options can be secured with a padlock), although these styles can be replaced with a heavy-duty mortise lock (key operated) if you would prefer a higher level of security or would prefer a more convenient way of securing the gate in the closed position.
What are the benefits?
Available in a large number of designs to suit your style of property or individual tastes, metal side gates are normally manufactured to a minimum height of 6ft (1.83m), which makes them difficult to climb over (unlike a garden gate). Perfect for spanning openings up to 5ft, they provide an imposing physical security barrier at any residential entrance making them the number one choice for any security-conscious property owner looking to protect their home and family.
What are the negatives?
Due to the nature of construction, metal side gates are unable to provide high levels of privacy due to the gaps between the steel bars. Many UK property owners find this off-putting, and in these instances, we suggest you find a suitable timber alternative.
If you would like to find out more details about when and where to use a metal side gate, feel free to get in touch, and we will be happy to provide help and advice. Alternatively, to view our range of excellent value metal side gates, click here.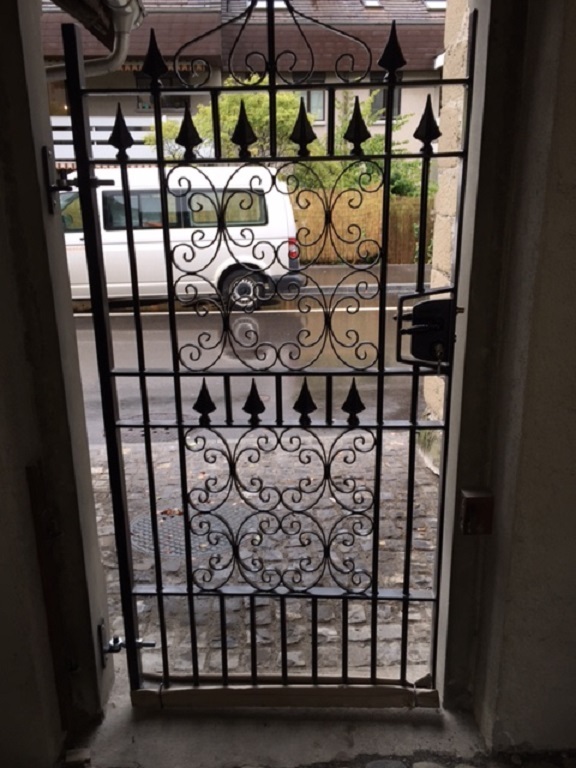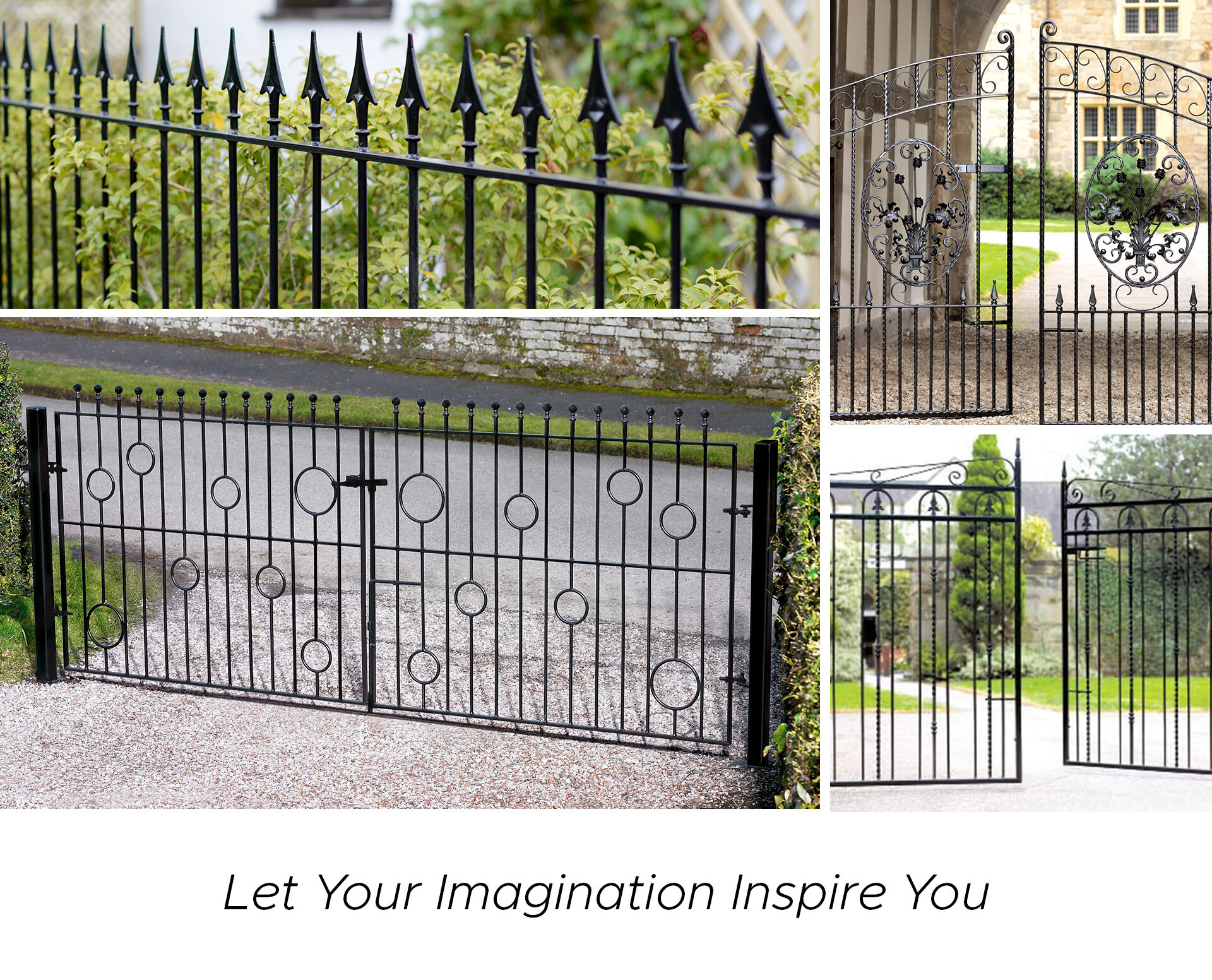 ---
Despite being most commonly referred to as driveway gates, this type of gate design can, in fact, be used to secure any large entrance where a single leaf option would not be viable. Manufactured from high-grade steel components in a traditional wrought iron style, they are produced in matching pairs that have an equal 50/50 split. In some instances, other configurations may be available such as a 2/3rd 1/3rd split design.
How do they operate?
Metal driveway gates are most commonly fixed to brick pillars using a pair of hinges on each leaf. When installed level with each other, the gates will meet in the middle with the corresponding latch and receiver unit catching to keep the gates closed. In addition to this, each gate leaf may feature a drop bolt to provide an additional means of securing the gate closed. The most common opening configuration of this type of gate is where each leaf swings in towards the driveway, so make sure enough space is available. Alternatively, in some instances, the gates can be reversed so they open outwards; however, due to safety reasons, this is not always possible (such as a driveway that crosses a pavement).
Although most homeowners are happy to open and close the gates manually, some people prefer to upgrade to remote control. (Please be aware that electric gates are dangerous if not properly installed; therefore, we do not recommend you fit the operator on a DIY basis).
What are the benefits?
Double driveway gates are a cost-effective way of protecting the main entrance of your home from trespassers and criminals. Manufactured in a range of designs, they can help enhance the visual appeal of your property whilst retaining an affordable price, making them an excellent option for any UK homeowner.
What are the negatives?
Aside from the obvious cost factor, the main downside to a set of driveway gates is the installation aspect. Due to the weight of the gates, you will need to make sure that existing brick pillars are of suitable strength to take the added strain placed upon the structure. In some instances, the installation of metal posts may be necessary, which leads to additional expenses being created.
Click here for advice on choosing double gates for the drive, or view our range of superb value metal driveway gates here.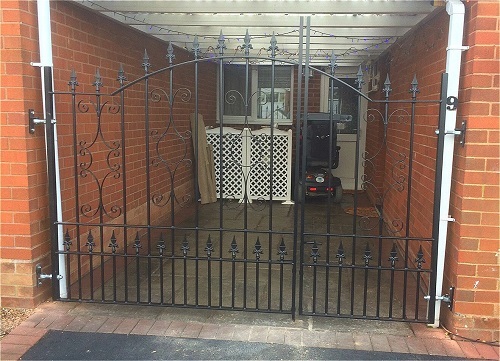 ---
If you are looking to provide the highest levels of security to your home and garden, then the number one choice should be a pair of estate gates. Suitable for large entrances and driveways, this type of gate will create a secure and imposing physical security barrier that is difficult to climb or bypass unnoticed. As a result of this high-security design, they are popular with owners of high-value properties looking to secure valuable assets such as prestige cars and valuables. Manufactured from heavy-duty steel components to ensure strength, rigidity and durability, a set of estate gates will prove an expensive yet worthwhile investment for any residential environment.
How do they operate?
Estate gates work in the same manner as any other hinged gate. A wall plate is attached to the supporting structure, and the gates swing freely off it. Where they meet in the middle, you can choose between a sliding latch (if you want to secure with a padlock) or can be upgraded to a mortise lock configuration that allows security to be achieved with a standard key.
What are the benefits?
Estate gates are easy to operate, can span large openings and provide the best levels of security of any common UK gate design.
What are the negatives?
Due to the heavy-duty construction, it may be necessary to make structural alterations to existing walls or pillars.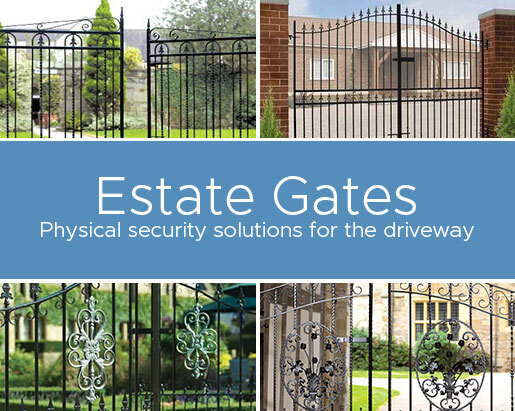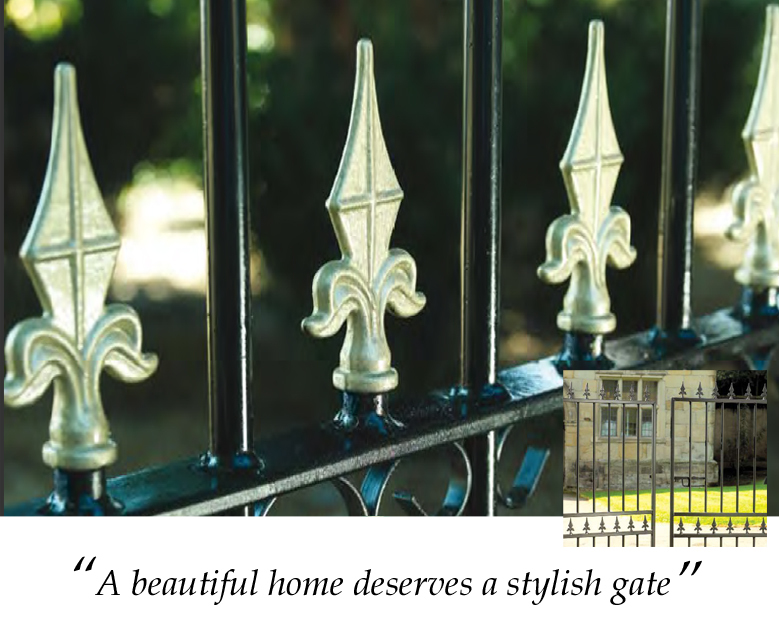 ---
Buy Online from The UK's Leading Retailer of Metal Gates
For more information and advice on ordering a new gate, we recommend you take a look at the following pages, email your questions to sales@metalgatesdirect.co.uk or fill in the online enquiry form.