Royale Gates
Handcrafted Metal Gates in a Wrought Iron Style
---
Royale Talisman Gates
---
Royale Balmoral Wrought Iron Gates
---
Royale Monarch Gate Design
---
Royale Premier Gates
---
Royale Ascot Metal Gate Range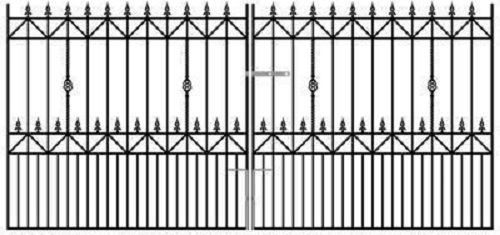 Taking inspiration from several sources, the Royale Ascot design combines strength and security with high levels of visual appeal. Suitable for most types of homes and gardens, this range of attractive gates is hand-built here in the UK to ensure the highest levels of quality whilst retaining an affordable price level.
Incorporating many traditional wrought iron style elements, including spiral infill bars, fleur de lys finials and cages within the steel bars for added visual appeal, the gates benefit from a solid steel construction but are also further strengthened with a double horizontal section.
To create a bespoke style, we can also offer the Royal Ascot design with the option of Ball Top finials or where safety is of more concern, a more rounded safety top finial can be fitted. For more details about these options, send an email to sales@metalgatesdirect.co.uk or fill in the online form.
Options
4ft High Metal Gate – Designed for footpaths, front entrances or any garden setting that would benefit from a gate to restrict access.
6ft High Side Gates – With an imposing appearance and solid steel construction, this gate design is one of our most secure options.
4ft High Driveway Gates – Available in widths up to 16ft, this high-quality double gate design is excellent value for money.
6ft High Estate Gates – With a high level of visual appeal, excellent security characteristics and an affordable price, these gates are fast becoming our best-selling design.
Weight – Up to 248kg
---
Royale Grange
---
Options & Accessories for Royale Gates
To complement the Royal range of products, we can offer several options and accessories.
Finish
As standard, all metal gates are supplied with a black primer finish. This means they must be painted with at least two coats of high-quality paint prior to you installing them. Where required, we can remove this requirement by offering the following paint finishes.
Zinc Plated (electro-galvanised) and Powder Coated
For more information, refer to our paint finishes section.
Locking Mechanism
All gate designs within the Royal range are supplied with a sliding latch as standard, which can be secured using a padlock. If you prefer to upgrade to a key lock for improved user convenience, feel free to contact us to discuss your options.
Posts
Due to the heavy-duty construction of the Royale range of products, we are able to offer several larger metal posts from which the gates may be hung. If you need more information, email sales@metalgatesdirect.co.uk or send us your query via our online contact form.
Design Modifications
Here at Metal Gates Direct, we understand you may want to retain a personal appearance on your property. We are happy to modify any existing design within the Royal range to suit your specific requirements. Should you wish to take advantage of this, don't hesitate to contact one of our friendly sales advisors who can help or refer to our bespoke gates section.
---
View More Products